Mayoral fashion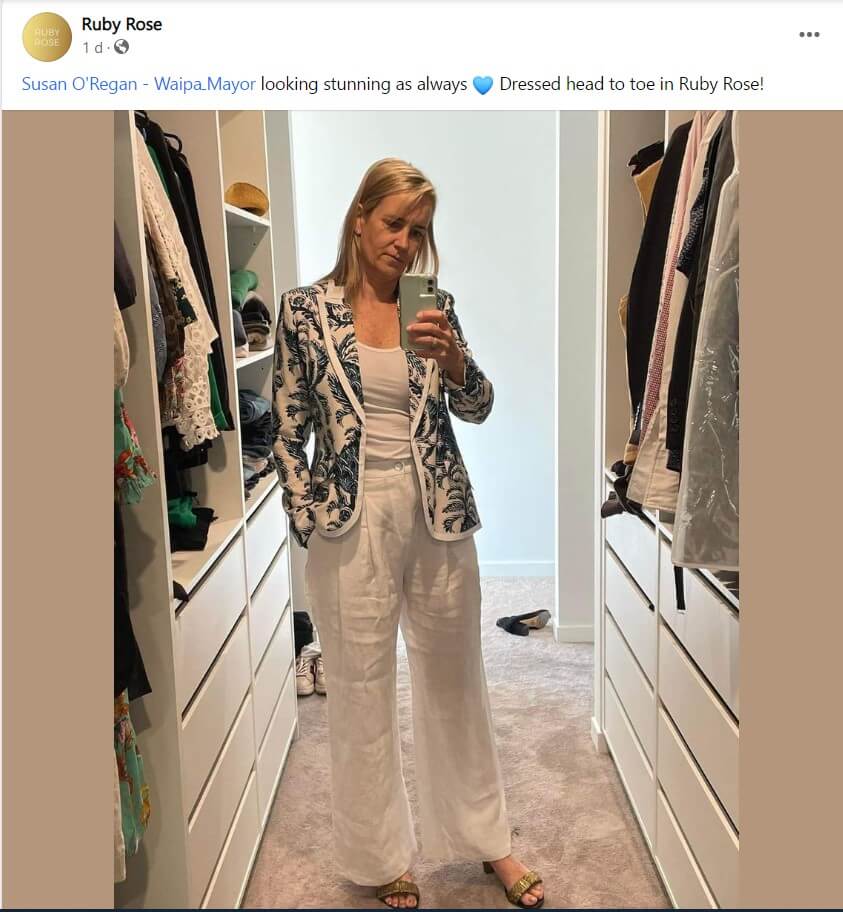 A social media post featuring Waipā mayor Susan O'Regan standing in her wardrobe resulted in a sale for the retailer where she bought the clothes she was wearing.
O'Regan laughed when told it would be a story – saying she realised now she was a public figure.
Service on hold
Waipā's purpose-built glass recycling truck out for at least a week after a non-injury crash at Te Pahu. The district council's group manager service delivery Dawn Inglis said it was another setback in a problematic few months for the contracted recycling service. The service was on hold last month because of a shortage of drivers.
Fieldays nears
There will be a lot of interest in whether the Fieldays move from mid-winter to the beginning of summer will have any impact on sales and attendance. The Southern Hemisphere's largest annual agricultural expo was postponed due to Covid mandates and will now be held over four days from next Wednesday. Several Waipā roads and routes will again be affected during Fieldays.
Ex-staffer in court
St Peter's Cambridge said yesterday it was cooperating with police investigations into a former staff member facing charges over historical allegations of student  abuse. The 73 year old has pleaded not guilty to 10 charges and elected trial by jury. He has been remanded at large to appear in court again next year.
Parks checks
Visitors at Waipā playgrounds will be surveyed from now to late January as part of a $3.3 million update programme. Information will be collected from eight  laygrounds – Lake Te Koo Utu, Leamington Domain, Thompson Street Playground, Gwyneth Common in Cambridge, and War Memorial Park, Hiskens Place  Reserve, Russell Park and Pioneer Park, all in Te Awamutu. The information will influence decisions on future developments across the 26 playgrounds in Waipā.
Road works
Waka Kotahi's maintenance work has been hampered by recent wet weather. It is planned carry out work on more than 700 lane kilometres of state highway by the end of the second quarter of 2023 in the Waikato and Bay of Plenty. Sites being targeted include Okoroire, Lichfield, Ātiamuri, Puketaha, the Ngāruawāhia section of the expressway, Pirongia and Kōpaki.
Early call
Staff at St Peter's school in Cambridge have met their next principal. Adelaide based Marcus Blackburn, who was named as Head of School for 2023, visited his new school last week.
It's beginning…
Christmas trees will start popping up on Victoria Street next week as part of the Cambridge Community Board's Community Christmas Tree Project. Inspired by the Taupo street trees, they will complement the other town Christmas decorations by adding a pop of colour and festive spirit at ground level.
Book released
In Her Blood, the latest book by Cambridge author Nikki Crutchley, is being released next week. Crutchley said the plot of the book came from her love of true crime podcasts and in one there was an episode on stalking and people who become obsessed with other people. The book took a year to write with most of the action in the  fictional settlement of Everly and the Gilmore Hotel, which is based on the Waitomo Hotel.
Dog rules
Suggestions of off and on leash days for dogs are among points raised in feedback to Waipā District Council on dog control bylaw. The proposal came following suggestions for changes, particularly around Lake Te Koo Utu in Cambridge. A review of the laws will be carried out and there will be a formal consultation period
in April and May next year.
Top five
Our online stories at cambridgenews.nz are gaining popularity, so we'll keep you informed of the ones which have proved popular. The headlines of the top five last week, in order, were
Our online stories at teawamutunews.nz
Our Kapa haka story was one of the most popular of the year. The headlines of the top five last week, in order, were