Input wanted
The Cambridge Resthaven Trust is reaching out to the community to request input on an important initiative. They are conducting a survey to better understand how Cambridge Resthaven is perceived and how it can continue to serve our community effectively.
They are asking people to share this survey with family, friends and co-workers who live in Cambridge.
Cambridge Resthaven CEO David Hall said, "Your feedback is immensely valuable to us. Cambridge Resthaven is a not-for-profit trust that has been an integral part of the community, providing support for elderly members of the community for the past 50 years.
The survey is an online survey and will take approximately five minutes to complete. Responses will remain anonymous and will be used solely for the purpose of improving Cambridge Resthaven's services and position in the community. If preferred, hard copies are also available – they can be picked up from the Resthaven on Burns care centre reception (170 Burns Street) or the Cambridge isite (79 Queen Street).
The survey runs from 16 November until 8 December.
New engagement tool
Waipā residents will have a new, easier way to have their say after a new online engagement tool was launched today.
The website (haveyoursay.waipadc.govt.nz) aims to improve the way council connects with the community using engaging tools like easy-to-follow surveys, interactive maps, and project timelines.
Strategy group manager Kirsty Downey said the fit for purpose tool was accessible and easy to use for both the public and staff.
Fluoride order questioned
A High Court decision issued on Friday in the New Health New Zealand vs the Director General of Health case, found that Dr Ashley Bloomfield acted unlawfully when he told 14 councils, including Waipā, to add fluoride to their community water supplies.
The former director general failed to consider the New Zealand Bill of Rights Act in what the decision says contained a procedural error. Bloomfield made the ruling under the authority he had as director general but should have given specific consideration to the Bill of Rights Act, Justice Paul Radich ruled.
While New Health New Zealand had asked for the fluoridation orders to be set aside, Radich ruled that the parties should try to agree on an outcome. Bloomfield ordered Waipā to add fluoride to its Cambridge water supply in July last year.
See: Add fluoride to water supply
See: New Health NZ v Director General of Health
Funding safe
Waipā's $12.8 million Transport Choices funding has not been affected by Waka Kotahi's decision last week to freeze its funding for cycling, walking and public transport initiatives while it waits for a "clear direction from the incoming government on its transport investment priorities". The money is being spent on the
Cambridge Pathways project and in Kihikihi to connect the town centre with the primary school and domain.
Team building
The second of three residential homes helping to send the New Zealand team to the Paris 2024 Olympic Games was unveiled in Cambridge with leading athletes present this week. The four bedroom home, opposite the Velodrome on Cambridge Rd will be sold to raise funds. The building project involves the New Zealand  Olympic Committee and Jennian Homes. The first home was built in Christchurch and the third will be in Wānaka.
Sports award finalists
A record number of nominations feature in the fourth year of the Waikato Sport and Active Recreation Awards. Baylene Dorssers is an unsung hero finalist and other Waipā finalists include Community Sports Delivery in the Community Connection section, Active Agers Program in the Sport and Active Recreation Partnership section, Girl Powa in the Commitment to Accessibility and Inclusion section, Te Awamutu Boxing Academy in the Commitment to Youth Engagement section and Hajamie Judo Club in the Outstanding by Youth for Youth Initiative section.
The awards celebrate people and groups who deliver programmes and initiatives that promote more activity. "Over 120 nominations were received for this year's awards and it speaks volumes about the outstanding work that is happening all around our region as people and organisations work to ensure they are delivering
opportunities that mean that more people are being active in a way that meets their needs," Sport Waikato chief Matthew Cooper said.
Winners will be announced in Hamilton in February.
Scholarships awarded
Anna Jago (Cambridge High School) and Georgie-Rose Boyd (St Peters School) are the recipients of the June Wallace Cambridge Women's Club scholarships worth $1000 each. They were presented with them at the club's meeting this week.
Record sale
Dingley Dell – the Maungatautari Rd farm featured in last month's Country Life – fetched $12.9 million at auction earlier this month. The sale of the property,  purchased by a dairy investor group, set a record mark for Cambridge Real Estate.
Fonterra role
Andrew Myers has been elected as a new cooperative councillor representing the Waipā ward for Fonterra.
Shareholders re-elected directors Brent Goldsack and Cathy Quinn to the Fonterra board and shareholders Simon Couper and Shirley Trumper were elected unopposed to the Directors' Remuneration Committee.
Myers, a Cambridge Community Board member, writes for The News in Country Life.
Read: Our future – my views.
Options for library
Six options are being investigated for a new library and community hub in Cambridge. The options are being considered as part of a feasibility study for the project which kicked off last month following conversations with the Cambridge Community Board, mana whenua, Waipā library staff and other stakeholders about their future aspirations for the space.
The options are the status quo, expand the current library on its present site on one or two levels or by extension, relocate/renovate or build new. The current Cambridge library is approximately 740 square metres and has outgrown its space. Preliminary work shows it should be 2100 square metres to meet current demand and with Cambridge's rapid population growth, a space of 2600 square metres will be required in another 20 years.
Waipā tops
Waipā District is the hospitality capital of the Waikato and the third most hospitable district in New Zealand, according to Airbnb. The online accommodation marketplace has released a list of the towns and areas of regional New Zealand based on the highest density of five-star reviews. The only two districts ahead of Waipā were Carterton and South Taranaki.
Goodbye sir
Mike Kilgour, who is nearing his 45th year at St Peter's School in Cambridge, has announced his retirement. Headmaster Marcus Blackburn said Kilgour was a "true legend" of St Peter's.
Time capsule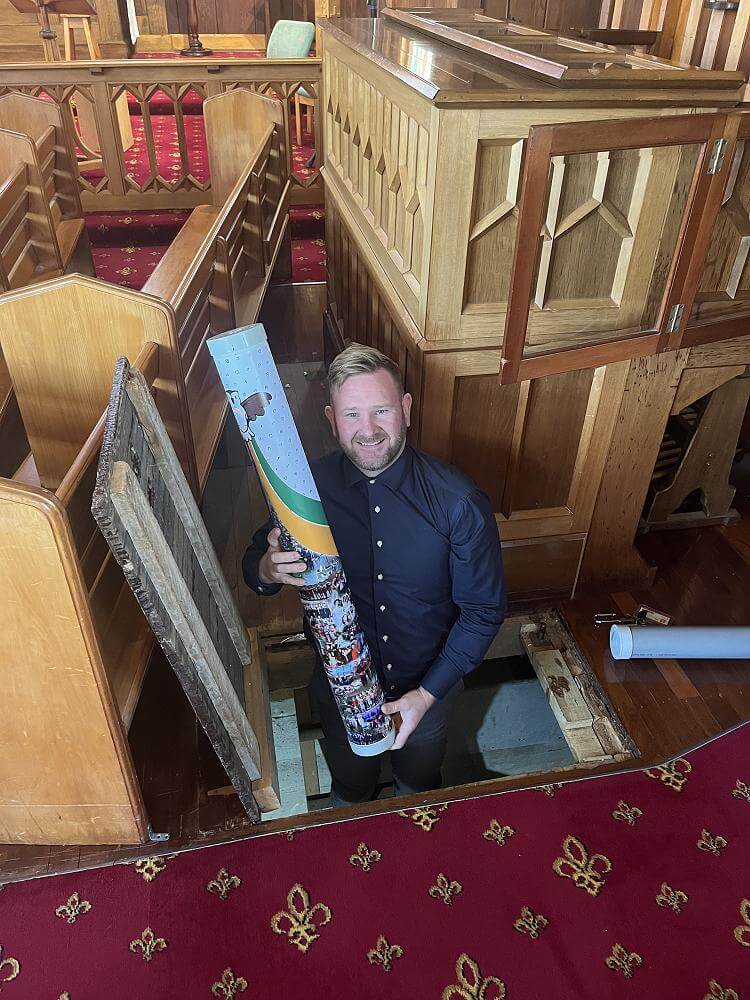 A Year 13 Time Capsule has been stored under the Chapel at StPeter's School in Cambridge after students from Year 13 were invited to contribute symbols that represented their final year at school. The capsule will be opening at a future reunion of 2023 graduates.
New markings
Improvements have been made on Thornton Road in Cambridge to allow pedestrians a safer place to wait before crossing to the shops, playground, and bowling club. New road markings, two centre pedestrian refuges and kerb crossing points have been added to the road to reduce the distance of road pedestrians cross.
Fun run
Roto-o-Rangi School's Fun Run will be held at the school on Saturday. There will be food and drink on offer, along with carnival activities including pony rides, bouncy castles and face painting.
Shoes for kids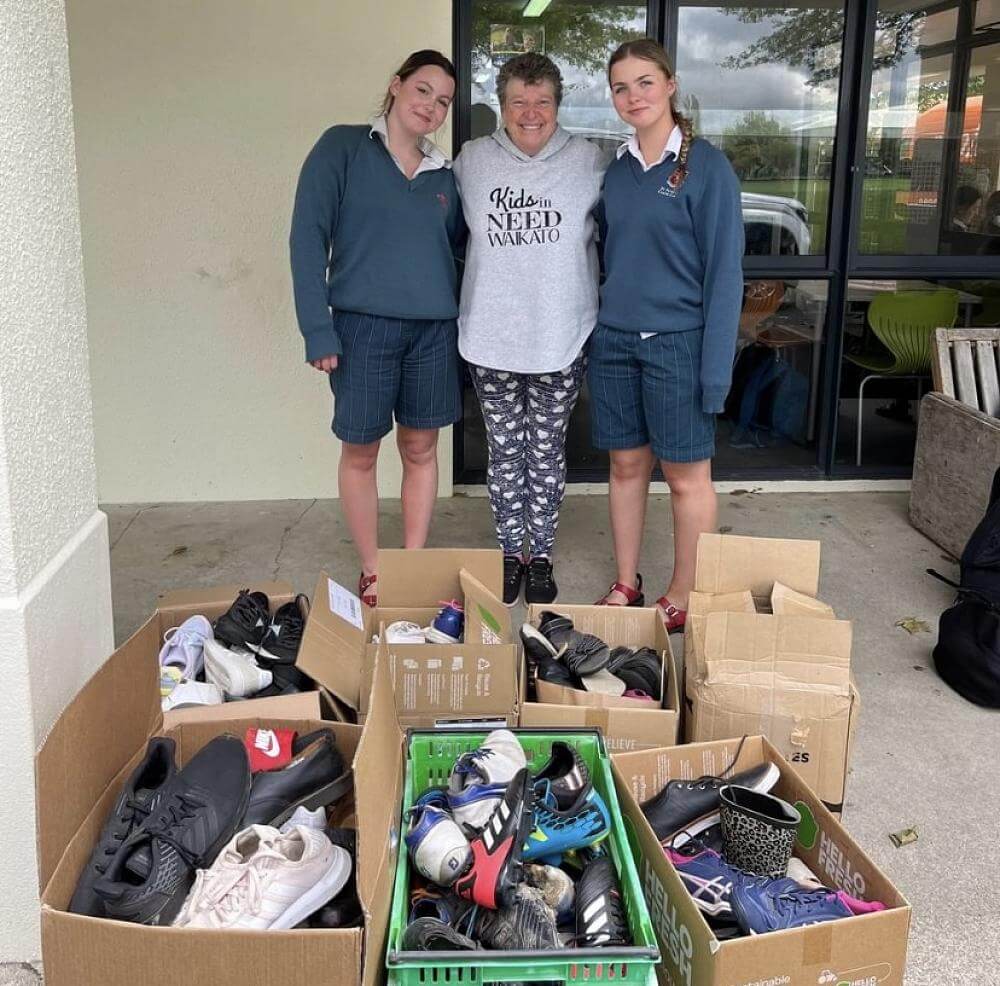 St Peter's students Alice Hardwell and Emma Dover recently ran a shoe drive to collect for Kids in Need as part of their International Baccalaureate Creativity,  activity, service Project. Kids in Need is a local organisation that provides support for children in care up to the age of 17.
Tamahere works
Road resurfacing work on the Waikato Expressway will be carried out at Tamahere for four nights from Sunday. When lanes are closed traffic will be detoured via on and off ramps at Tamahere.