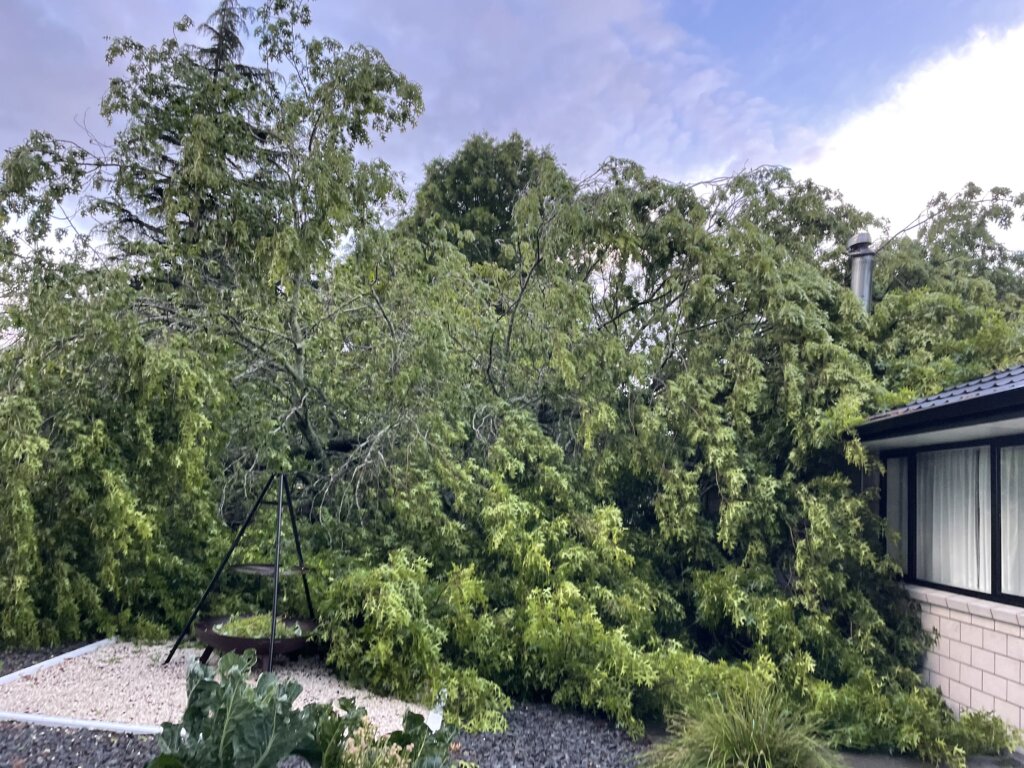 The thunderstorm last night brought an estimated 60mm of rain to Waipā – and a tree down on a Lamb Street roof in Cambridge.
Aaron and Charlene Bethune discovered the damage this morning and think the tree came down between 2 and 4am.
Aaron, an accountant with Tainui Group Holdings, said there was damage to the two year old house – but early checks suggested it was not structural.
Waipā was "treated" to a lightning show late  – and the thunder was loud enough to be heard over the noise cancelling headphones Aaron was wearing while watching Netflix.
An early check with Waipā District Council confirmed the storm had caused other damage.
There were reports of a conifer splitting and falling into the section, and leaning on a house in Burns Street.
"There were some issues with trees falling on roads, particularly with a tree from a private property blocking Parallel Road," a spokesperson said.
A crew was clearing the road this morning.
There were just three other call-outs today to council roading contactors and in two cases farmers had come to the rescue to clear the debris.
They were at 12:04 am to Grove Road where the crew arrived to find a farmer has already cleared a tree,  4:34am to Tuhikaramea Road where  fire and services cleared a tree and 5:27am to Koromatua Road where the crew arrived to find a farmer had already cleared the tree.
"Treescape did not have any call outs overnight but there are a lot of small branches down in parks. There are no reports so far of large damage  – council contactors are checking a list of trees that are monitored and checked after all significant weather events," the spokesperson told The News.