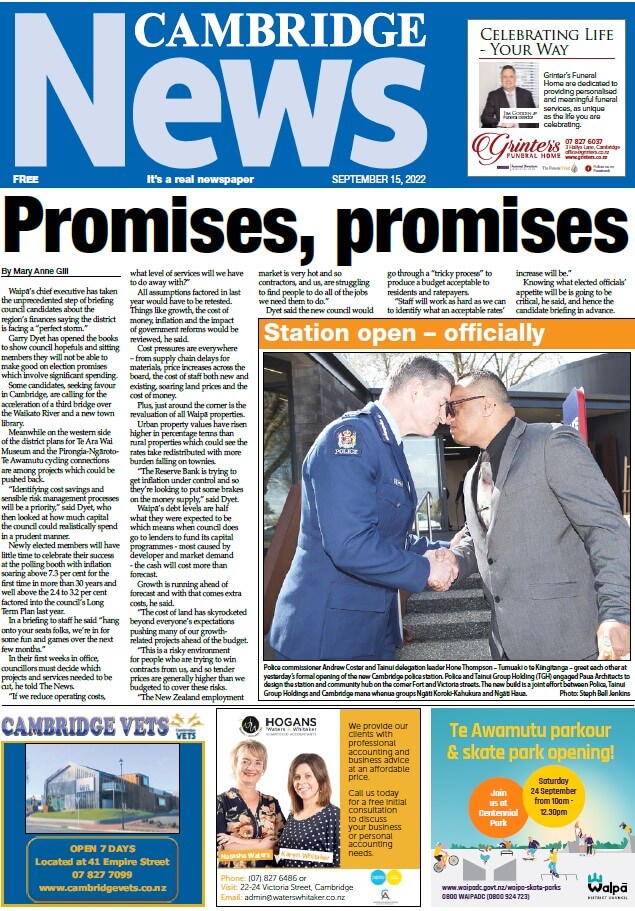 Cambridge News editor Roy Pilott has today refuted suggestions his newspaper invented a story in which Waipā chief executive Garry Dyet warned election candidates about a financial storm brewing.
Mayoral candidate Chris Woodhams has posted on social media:
"I called Garry Dyet after I saw the article titled 'Promises, promises'.
"In the conversation he stated he is livid, saying it is data that is out of context and he did not talk to the paper at all! Actually, it is not news at all.
"Fake news needs to be called out," said Woodhams.
His post was removed from some sites.
One was the site of sitting councillor Roger Gordon, where it first appeared. Gordon's own initial comment on The News story drew calls for Dyet to resign from Brenda Stamp.
Stamp moderates one of two pages where the Woodhams' post remained on Sunday and was pictured alongside Woodhams in a story at the start of the election campaign. She thanked Gordon for "clarification" and said Dyet should resign immediately. Stamp also sent a letter of complaint to The News publisher David Mackenzie.
Woodhams, who also repeated claims of editorial bias from The News has recently threatened to complain to the Media Council on four occasions over different issues.
Answering a response to his post from Sharon Stirling criticising The News he also wrote: "certainly their level of information appears to be limited to the creativity of the writers".
Pilott said it is Woodhams who should be called out.
He said the story came from a Waipā District Council Strategic Planning and Policy meeting workshop on September 6 – which Roger Gordon attended.
"Senior writer Mary Anne Gill watched the meeting, and read the material presented, including a Powerpoint presentation.
She also interviewed Garry Dyet and her article was our front-page lead in both the Te Awamutu News and Cambridge News."
The online version of the article contains all the material which was already in the public arena.
"I am aware Mr Woodhams discussed the story with Garry Dyet. I am also aware Mr Woodhams' account of that discussion is not consistent with what he was told by Mr Dyet," said Pilott.
It capped a bad week for Cambridge candidates. Philip Coles was required to apologise at a public meeting last week over comments he made at an earlier Grey Power meeting, and on Thursday Woodhams pulled out of a Te Awamutu Grey Power meeting of candidates having turned up – then saying he had to be back in Cambridge.
Pilott said information which formed the basis of the story called fake news by Woodhams and explaining candidates may not be able to make good on promises if it involved significant expenditure was presented at a public meeting.
The News also reported candidates had been briefed – but Woodhams said there had been "no open book session" and that was "an invention from Mary Anne Gill".
The meeting can be viewed online, as can the information from Garry Dyet which alerts candidates to the issue.
"Mr Woodhams has caused significant embarrassment with a fanciful account of a conversation – and it is the third time he has done this to my knowledge in recent weeks," Pilott said.
Pilott said Woodhams had already been told he had wasted a great deal of the newspaper's time.
"He earlier wrote that he was told by a manager at The News: 'we (plural) do not believe Jim won the last election, he keeps saying he did'. He has also told at least one public meeting that he was misquoted over a line published in a story – after he acknowledged to me he probably did say it.
"Gill is, in my view, the best community newspaper journalist in the country. Her work and integrity have no match. This community is fortunate to have her working on its local papers.
"Instead, we have a candidate accusing her of inventing stories and his supporters applauding him."
No councillor or council staff have comments on Woodhams' "fake news" post.
Meanwhile, the would-be mayor also claimed a "first mayoral victory" last week after it was announced Cambridge's recycling centre would open before the end of the year.
On this occasion, a councillor did ask a question.  Marcus Gower asked Woodhams if he would take credit for a project in Te Awamutu as well.
Read: Recycling, rubbish station stays shut
Read: Down in the dumps