Cambridge athletes brought home seven gold medals from the 2022 Aims Games last week.
A total of 11,000 11-13 year-olds from 323 New Zealand schools converged on Tauranga to take part in 23 codes at the annual intermediate-aged sporting tournament, which ran from September 3-9.
St Peter's Cambridge swimmer Alyssa Lawson notched up the most outstanding performance by a Cambridge individual athlete, winning the 12-year-old girls' 50m, 100m and 200m freestyle and 50m breaststroke events and breaking three Waikato records in the process.
The year 8 student, who lives in Cambridge, said she was nervous as she lined up for her first 200m freestyle race at Baywave Aquatic Centre.
"She was really emotional," her mother Kelly said.  "She's normally pretty calm but she came up to us in her togs, dripping wet, and just grabbed us and burst into tears really.  It meant a lot to her.  She's one very driven young lady."
Alyssa said her long-term goal was to "be the youngest ever girl to go to the Olympics and win gold".
She was grateful for the support of her family and coach, former Olympic swimmer and Commonwealth Games bronze medallist Alison Fitch, who drove to Tauranga every day to cheer on Cambridge's swimmers.
Jessica Johnstone also claimed a medal for the St Peter's swimming team, finishing third in her 200m breaststroke event.
There were five other podium finishes for St Peter's.  Nick Lugton won gold in canoe slalom, the boys' hockey team won silver and bronze medals went to Ollie Plant for sailing skiff and Holly Nisson for BMX and enduro mountain biking.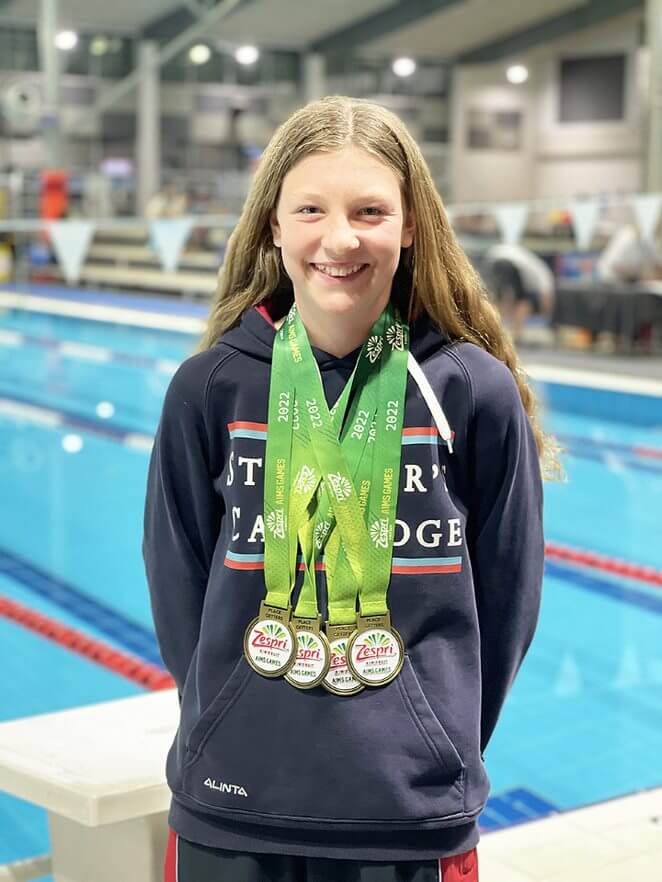 Cambridge Middle School sports coordinator Anita Hawkins said her team of 85 athletes had an "absolutely amazing" week.
"…in terms of sporting achievements, our biggest ones would probably be Will Flavell, who came first in the boys' para cross country and Beth Walker, who came first in the girls' BMX time trial."
Beth also won silver in the year 7 girls' individual BMX race and Zoe Briggs, Ahana Gowda and Olivia Bax won silver in gymnastics.
Anita said winning at Aims was "like getting an Olympic gold medal".
"It a highly, highly, highly competitive tournament," she said.
"With 11,000 kids taking part, to get even a top 20 placing is quite phenomenal and a podium finish is even better.  Behind that medal there are so many hours of training and mistakes and losses, because you don't win all the time.  There's a big story behind each medal."
Cambridge Middle School netball player Emily Armstrong, 13, said hanging out with her team had been a highlight and all the extra training she had done for Aims had been worth it.
"It's definitely an experience I'd recommend for anybody that likes sport," she said.
Hautapu School sent one hockey team to Aims.
"The children played with enthusiasm and resilience and ended up fourth in the B division – 28th overall out of 50 teams – which was an amazing result for our small school," teacher Stephanie Barr said.
"They all had a fantastic tournament and loved their experience over the week away."
St Peter's Catholic School was represented by three cross country runners.
"Although they didn't place, they enjoyed the experience and the camaraderie of this iconic event," office manager Donna Warwick said.